Bainisteoir - Hurling ©
PREPARE YOURSELF FOR THE UNRIVALLED EXCITEMENT, COLOUR, INTENSITY AND PASSION OF THE "GAME OF THE GODS"
Innovative and captivating, Bainisteoir – Hurling© replicates a world of fine detail for arguably the greatest sport on Earth. Amid its intricacies and strategic moves, a more human story takes shape: part love song, part call to arms.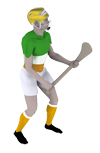 A sports strategy game, Bainisteoir – Hurling© offers the opportunity to become a top level Hurling manager to a County of choice, and with it, the goal of realising the team's potential.

Click here to buy your copy today!
Taking you on an adventure ride through the turbulent world of Inter-County Hurling, Bainisteoir – Hurling© challenges you to tackle the everyday dramas, human dilemmas and controversies that arise from interacting with not just your team's fans, sponsors and back-room staff, but with the media, opposition managers, opposition teams and of course, with your own star-studded panel of players.
Incorporated within Bainisteoir – Hurling© are the 32 Irish Inter-County, New York and London Senior Hurling panels, which are composed of over 1,000 real-life Hurling stars, including Sean Og O'hAilpin, Henry Shefflin and Eoin Kelly.
Watch your players put into practice what you taught them on the training ground during the Match Day event. Including live Stadium action, match commentary, individual player & team tactics, half-time analysis, pre-match/half-time team talks, and up-to-the-second player, team and match statistics, Bainisteoir – Hurling© is uniquely capable of providing a feel for the contemporary Hurling scene which had previously been known only to the sport's elite.

Bainisteoir - Hurling © Terms and Conditions

Bainisteoir - Hurling © Piracy Statement